Oualidia is a small village on the coast between Casablanca and Safi, and although unassuming it is known for its fabulous beaches, coves of crystal-blue water, world-famous birds habitats, and, most important, renowned oyster farms.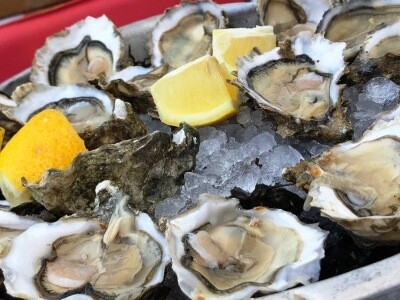 THE OYSTERS OF OUALIDIA: No visit to the Casablanca region should be without a meal of delicious Oualidia oysters.  Seafood lovers are said to regard them as a gastronomic delicacy.  With their large tanks and beds, oyster farms are a common sight in Oualidia.  Several types of oysters are farmed here, including those also found in the Marennes Oléron region of France (and regarded as a particular delicacy in Europe), along with the Pacific cupped oyster, often called the Japanese oyster, and the Gasar cupped oyster. Oysters were first brought to Oualidia in the 1950 s when Morocco was under the French protectorate.  At first the farms were primitive, but the oysters harvested were so highly regarded that the industry grew rapidly over the next few decades.  Today, the farms are strictly regulated according to European standards of health and hygiene procedures.  Their large purification tanks, calibration equipment, and operational procedures are modern, and technological innovation is making the industry ever more efficient.  Visiting a farm and sampling some of its oysters, followed by a stroll along the beach and taking in the many islands that dot the seascape, is a great way to spend an afternoon.  The farms are clearly signposted from the center of Oualidia, and many offer the chance to tour the beds.  A highly recommended restaurant is l'Araignée Gourmande (Oualidia Lagoon, tel 0523/36 64 47, www.araigneegourmande.com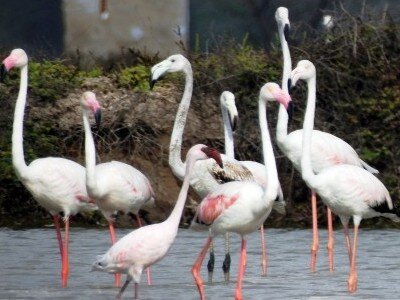 Bird – watching: For enthusiasts of bird watching, Oualidia's sandy beaches, reefs, wetlands, and salt pans host a magnificent range of species – one of the finest in Morocco.  A visit at any time of the year will be productive, but be sure to bring your binoculars.  Look for gatherings of pink flamingos, providing a colorful spectacle, while long – necked cormorants can be seen stretching and drying their wings.  Along the shore, red-shanks delicately wade in the shallows, along with black – and – white avocets and black – winged stilts, godwits, elegant storks, terns, egrets, and orange billed oyster-catchers probing among rocks.  If your visit is during spring or fall, expect the unexpected, because at these times of year many thousands of birds will be migrating either from sub Saharan Africa to Europe, or vice versa.  Bee – eaters, wheat-ears, great spotted cuckoos, and a variety of warblers will join the cast of avian attractions.  If your interest is in birds of prey, watch for marsh harriers, booted eagles, and ospreys.